A guide to unhappiness for trainers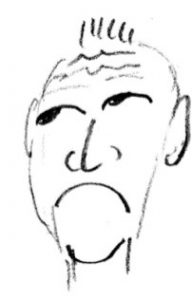 Participants in training courses, seminars and particularly longer courses complain about annoying methods. However, those who are annoyed and allergic to certain methods learn poorly or, in the worst case, not at all! With our small series on the subject of "Annoying methods" we would like to support trainers in avoiding allergic reactions and point out possible alternatives!
In irregular intervals we will deal with a certain method or even a seminar setting in detail. We will start with a general "Guide to unhappiness for trainers" (analogous to Watzlawick's book of the same name), related to training methods. This manual is independent of specific tools – if you pay careful attention to the following tips, even the most popular and effective method will definitely be annoying!
How to get on participants' nerves in the best possible way with a targeted use of methods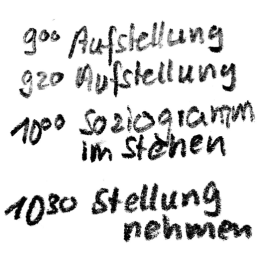 1. Repeat, repeat, repeat! Just use the same method over and over again. With a little good will, you can use a method more often in one day, maybe even every hour. This can be done in group work, constellations, flashes, etc… Participants will quickly become annoyed and roll their eyes.
2. Always proceed according to your own taste! Are you a huge fan of theatrical pedagogical methods? Super! Then simply work consistently only with such methods! Again and again (see point 1). You are convinced of it. This is much more important than adapting to the learning culture of the target group…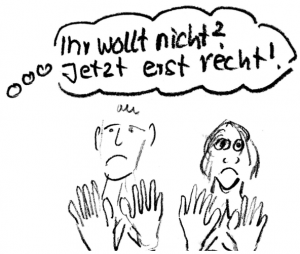 3. You're the boss: Use your methods even against resistance! Participants reject methods, don't want to write cards, stick points, do small group work or throw balls. Hey, you are the coach, you are in charge! The participants probably lack the methodological expertise. So it is important to stay tough and make sure that nobody escapes. Everyone has to participate!
4. Always keeping up with the times: don't miss any methodical fashion trend! Fortunately, there are always new methodological trends in the continuing education scene. Individual methods that are used by everyone, for all contents and only in slight variations so that they are also recognised. There is super high "annoyance potential". This also applies to the combination of methods with trend vocabulary. Why don't you try the "Agile Flash" or the "Sustainable Map Query"?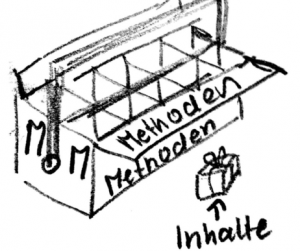 5. Methods are in the foreground! Content is secondary! Your seminar is always primarily about the methods used and not about the content. That is forgotten quickly anyway and is therefore generally overrated. How can you get on the nerves of participants who develop an interest in learning content, concentrate on it and sometimes don't even realize which super methods you are actually working with?
That should be enough for the beginning. In the next weeks and months we will deepen the topic and present the "annoyance potential" of individual methods. In the meantime we wish you good luck for your next seminars! Remember: Always follow the five tips for maximizing the annoyance potential!
Autor: Ulli Lipp
Translation: Astrid Donaubauer
Read the original article in German

Dieses Werk ist lizenziert unter einer Creative Commons Namensnennung-NichtKommerziell-Weitergabe unter gleichen Bedingungen unter gleichen Bedingungen 3.0 Österreich Lizenz.
Volltext der Lizenz